Benefits Of A Plunge Pool
Australian backyards are now smaller than ever and as a result, plunge pools have become an increasingly popular choice among homeowners. Plunge pools allow people with small backyards to have a luxury pool for their home. We have put together this article to share everything you need to know about plunge pools to help you decide if they are the right choice for you and your family.
Before we go through the benefits, we should define what a plunge pool is exactly. A plunge pool is smaller sized pool that has been designed with rest and relaxation purposes in mind. It offers similar benefits to those that come with a larger pool; however, it is more compact in size. Plunge pools are generally around 2 to 7 metres long by 2 to 4 metres wide. Unlike other styles of pools, plunge pools have a large distinctive seating area around a certain area of the pool. This provides a perfect place to sit, relax and unwind after a long day's work.
A plunge pools depth can vary depending on which type of pool you choose, although you can expect the seating area to be substantially shallower than the centre of the pool. They are more suited to those that want a pool to relax in, do stretches and for physiotherapy purposes rather than serious swimming. They work well in backyards that have limited space or for those who only want to dedicate a small portion of their backyard to a pool. Fibreglass pools come in a variety of shapes, styles, and designs.
Features of a plunge pool
Most of us don't find sitting in cold water on a cool day an enjoyable pastime. Installing a heating system for your plunge pool means you can enjoy it all year long. Warm water enhances the relaxation experience and it is known to reduce muscle tension and alleviate pain associated with injuries.
To accentuate the relaxation experience even further, you can add water spa jets to your plunge pool. Jets in conjunction with warm water, massage tired sore muscles which can help to relax and unwind. Additionally, if you wanted to use your plunge pool for fitness purposes, you can add swim jets. They are high powered jets that propel water in one direction, this allows you to swim against the resistance, giving you a killer workout.
If you were wanting to use your plunge pool in the afternoon/night time, lighting is a great way to enhance the aesthetics of your pool as well as making it safe to use when it gets dark.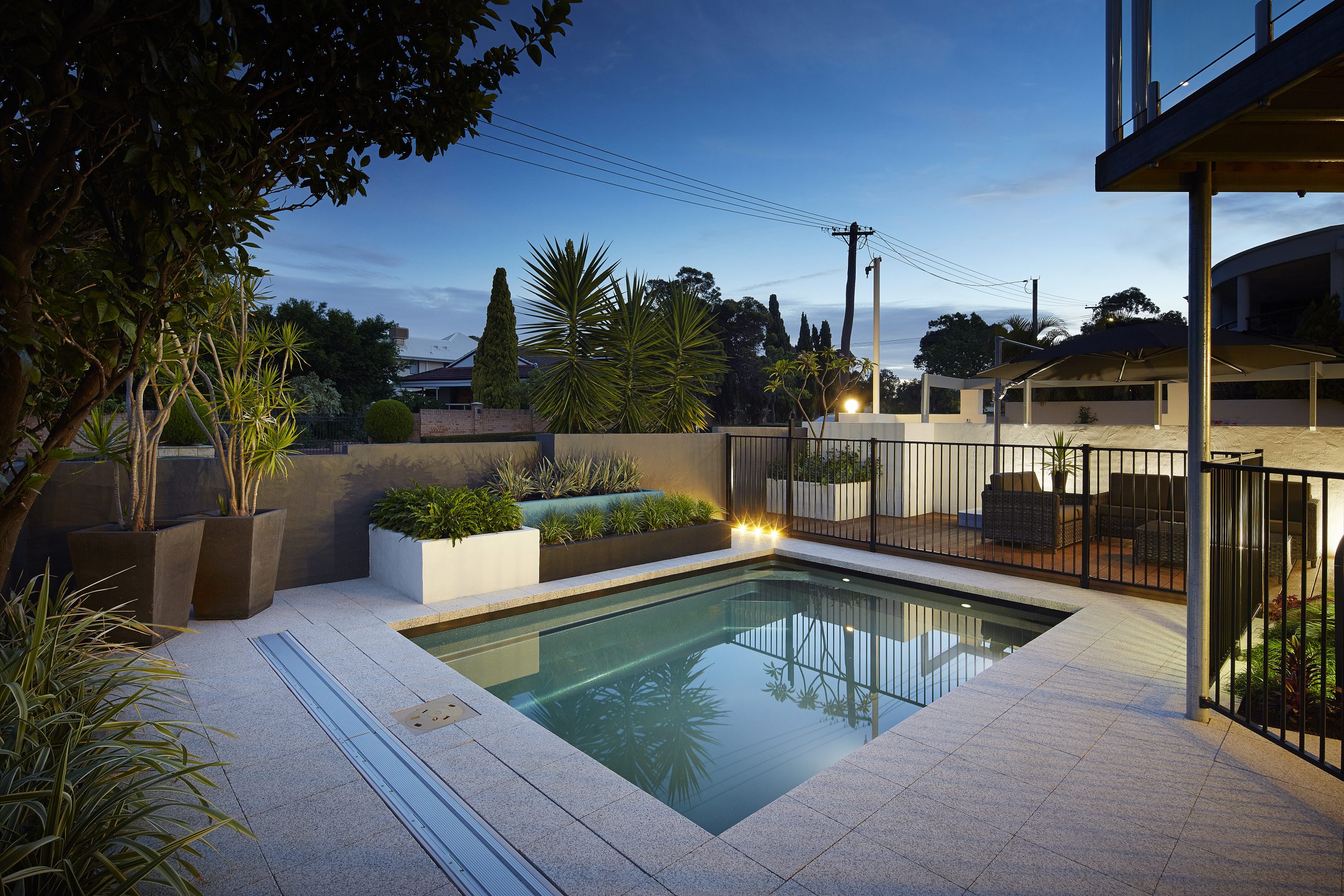 Benefits of a plunge pool
Plunge pools are a popular choice for those wanting a pool for their backyard but don't have enough space for a large one. Plunge pools still offer many benefits that family pools do, they are just a fraction of the size. They are especially great for those living in built up residential areas where space is limited and for people with young children who are gaining confidence in the water. A plunge pool is a great way to create a beautiful focal point in your backyard without requiring a lot of room.
As plunge pools are smaller in size, they require less chemicals and effort to keep them clean. This frees up more time for you to enjoy your pool rather than cleaning it. Plunge pools are far more environmentally friendly than their larger counterparts. They require less water, use less electricity to run and are far more energy efficient to heat. If reducing your environmental footprint is something you are conscious of, a plunge pool could be the solution for you.
Possibly the biggest benefit to owing a plunge pool is the overall health and well being benefits that they can offer. Having a plunge pool in the backyard provides a place to distress, recover, and rest. By reducing your stress levels, you can significantly improve your physical and mental well being.
How do you install a plunge pool?
When starting your pool journey one of the first things to consider is if you want it to be above ground, partially above ground or inground. A plunge pool can be put in via any of these installation methods. Which one you choose is highly dependent on your budget, the look you are trying to create, and which is suited best to the condition of your site. Typically, in ground installations are the most popular type of pool build. An inground plunge pool installation involves excavating the ground, placing the fibreglass shell in, and adjusting it to ensure it is level. Back fill is then placed around the pool and compacted.
A partially above ground installation is similar to that of an inground install, the difference is that the ground is only partially excavated. As the name suggests, above ground pools are positioned above ground, very little groundwork is required however, they tend to look less appealing if they are placed in backyard with nothing around them. When they are built to tie in with existing decking, landscaping, or level with the home they can be a stunning statement piece. They way you choose to have your pool installed does not affect the strength of the shell. High quality fibreglass pools are designed to have extreme tactile strength and will not bulge or crack under the pressure of water or earth movements. A support structure may be built around the pool to give it added stability in some cases.
What is the cost of a plunge pool?
There are many factors that can contribute to the overall cost of a plunge pool. These include, access to your site, the quality of the shell you have chosen, whether you want it installed inground, partially above ground or inground, the surrounds that you choose for your pool and any added extras. The average cost of an inground plunge pool starts at around $13,000. This may seem expensive for a smaller sized pool; however, the quality of a plunge pool is the same as a large pool and it is installed to the same superior standard. We believe that a well-designed plunge pool is an asset to any home. To get an accurate price, it's best to contact a qualified pool builder, most reputable companies offer free onsite quotes.
Why should I choose a plunge pool?
A plunge pool is a good choice if you:
• Are limited on space but still want a luxury pool for your home
• Want to improve your health and well being
• Want an environmentally friendly pool
• Want to dedicate minimal time to cleaning and maintenance
• Want heating for your pool for the least cost
• Want to save money on power and chemicals
Here at Barrier Reef Pools we construct and install fibreglass plunge pools. Our plunge pools are modern, stylish, and perfect for those wanting to enhance their lifestyle and their backyard. They are a great option for those with limited space but still want the benefit of a pool at their home. We have an extensive range of pools in various colours, shapes and designs and our friendly team would be more than happy to discuss your options with you. Please, feel free to give us a call today.