Is My Backyard Suited To A Swimming Pool?
If your backyard is extremely steep, the ground is full of rock, or the ability to access your yard is difficult, this may add to the cost and time it will take to install your pool. When considering a pool for your backyard, one of the first things you might consider is whether the space you have is suitable for a pool. We understand that all backyards are different in terms of their size, access, layout and soil quality. Of course we always recommend working with a highly experienced pool builder that is confident with installing pools, especially if you have a more challenging block. That way you can be assured that they have the experience and knowledge to provide you with the best design suited to your backyard and the space you have to work with!

The slope and rock in your background are not only things to consider when planning your dream pool! There are ultimately many factors that determine whether a swimming pool is suitable for your backyard. Over the years, Barrier Reef Pools have installed thousands of pools in an array of backyards. We believe we can transform your backyard no matter the layout or size. Our experienced team can advise you on the factors you should consider and the options you can choose from based on the size of your backyard. If you have any questions regarding the suitability of a fibreglass pool for your home, call our friendly team at Barrier Reef Pools today.
Check Council Regulations & Utilities
In the beginning of the process to install a pool, it is recommended to check with your local council to see if there are any zoning, safety or local building regulations that you need to comply with. Avoid placing the pool over sewers, storm drains, power, and gas pipes, as this can be quite costly if any repairs need to be made. Your local council can provide information regarding their location, and your pool expert can make sure they are not installing in the wrong spot. Also you will find restrictions on placing the pool too close to boundaries too.
There are few things to consider if you are short on space for example, how big do you want your pool to be? Are you happy for the pool to take up the majority of your backyard? Or would you like to have a smaller pool and still have a grass area? As a general guide, the pool and the pool surrounds should occupy approximately 25% of the total outdoor area. This will allow space to create an entertaining area or a play area for the kids.
If you love the idea of having a swimming pool but are not sure if you have the room to accommodate one, rest assured that we have a wide variety of pools suited to every backyard. Our smallest pool is our Billabong Slimline Plunge Pool (4.2m x 1.6m), and we also have a range of spas if you are looking for something even smaller! When installing a pool with limited space it's a good idea to position the pool close to the house or fence, this will amplify the space that you have. By positioning the pool to run parallel along the longest part of your fence can create an illusion of more space.
The Slope Or Layout Of Your Yard
As mentioned before, just because you have a sloping block, it doesn't mean you can't have a pool installed in your backyard! All of our fibreglass pools can be installed in ground, and above ground or partially – in-ground and above! Our state of the art technology allows us to design our fibreglass pools to fit in practically any yard. The most important factor to consider will be drainage. Drainage is very important for all pools and even more so for one in a yard with a slope. If it rains and there is excess water or a leak, it may erode the slope that the pool is installed on. Drainage must be installed and directed away from the house to avoid water flowing towards it. The cost of installing a fibreglass pool on a sloping block will vary depending on access, the steepness of the block and the quality of the soil. A pool that is installed on a sloping block can be quite an attractive feature to your home. A deck or patio is typically installed around the pool which can really bring the outdoor entertainment area and swimming pool together. When installing a fibreglass pool, it is best to avoid the steepest part of the yard, this will save money and time on the excavation and earthworks.
If we can't get anywhere near to where the pool is to be installed- we will have to use a very large crane to lift it in, this can be quite costly, however it is rare that we need to do this, and it still means you can have a pool in your backyard! You'll be glad to know that almost anything is possible when it comes to accessing your backyard to put a pool in. Installing the pool before starting construction of the house or properties with land are generally very easy and quick to install, however there is no need to worry if you don't have great access or it is limited. Our experienced team will find a solution to installing your pool, it may just take more equipment and time to get it in. If your house is already established or you have limited access, we will often use a crane to lift your pool in. This is generally a simple process that involves lifting the pool over your house and into your backyard.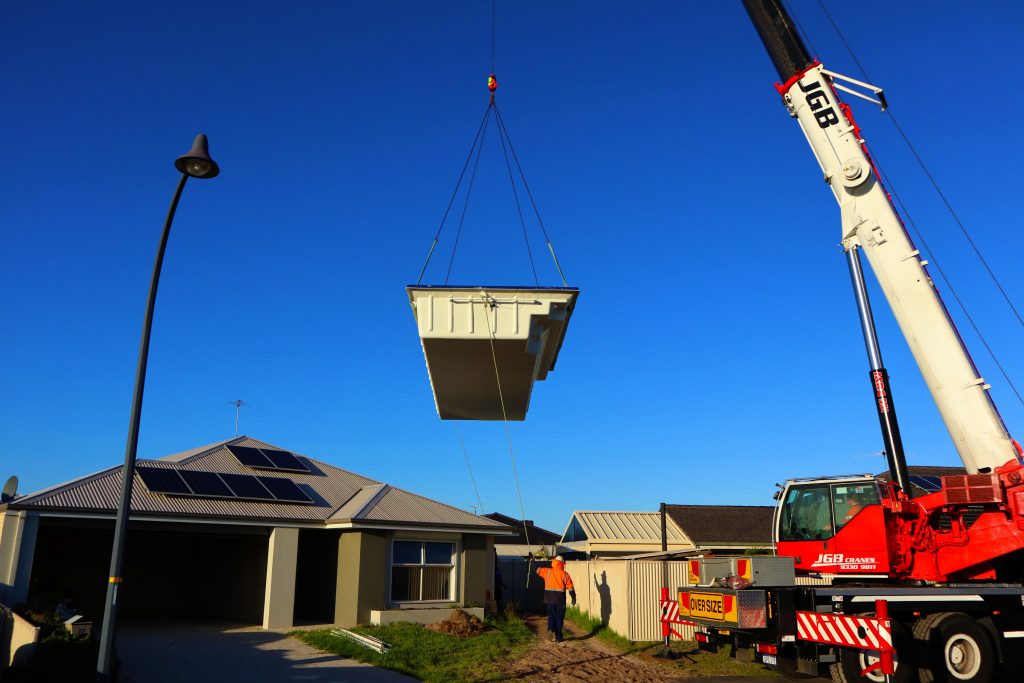 Rock isn't really an issue if we have adequate access to get a big excavator in your backyard. Even if we can only get a small excavator in, it will just take a bit longer to dig and make any changes to the fall of the land.Every pool install will require excavation to some degree, with above-ground pools being the exception. Having good access to your backyard, means less time and money spent. We know it is hard to know if there's rock in your backyard without digging it up, some owners however, may have an idea if they have done some construction or landscaping prior to booking their pool installation.
Positioning The Pool & Equipment
You will need to factor in where your pool pump and equipment will go. If you have the space, it should be placed near the pool on the same level to reduce unnecessary pressure on the pump. Installing your pool in a north facing position with ample sunlight is desirable as the sun will warm your pool up by approximately 4 degrees. If you have a relatively small backyard, this may not be an option. For further consultation around positioning and equipment, please contact our friendly team at Barrier Reef Pools.
In an ideal world we would all have flat, easy to access areas to install a pool in! However, we know this is not going to be possible in our reality. Barrier Reef Pools can accommodate nearly all backyards with a pool that will fit seamlessly into the space that you have. So get excited and start planning your dream pool by contacting our team for guidance!