New House Plans? Why A Swimming Pool Should Be On Top Of Your List!
If you are drafting new house plans and considering getting a swimming pool for your backyard, you better do it now.
A house plan includes all the specifications and drawings required for the construction, including the layout, dimensions, materials, techniques and technology. Since a pool involves considerable investment and occupies quite a large space, including it in your house plan makes sense. Incorporating a swimming pool plan into your existing house plan provides tons of benefits.
Delaying Getting A Pool Will Only Make It Harder For You In The Future
Most people with new house plans focus only on the house construction, and postpone their pool plans. This is not a good idea. If you plan to finish building your house first and get a pool installed after you move in, you will be making a huge mistake. Read through to know why.
We suggest you bring both your house builder and pool builder onto one field. When they plan and work together, getting your home and pool ready will be a breeze for you. In most cases, pool builders start their work when the house construction is halfway through. The pool finishing includes landscaping and driveway, so your house builder should plan the exterior finish to provide scope for the perfect pool finish.
Benefits Of Adding A Swimming Pool Plan For Your New House Plan:
Construction And Landscaping Work Can Be Completed At Once
If you have pool plans on your mind and are thinking to get a fiberglass pool in the near future, consider reviewing your plan. Construction work is noisy and disruptive, and getting your hands on it after moving in will only make it messier. In order to avoid disruptions to your home, we advise you to incorporate a pool design into your house plan. This way, you can also avoid the costs and work involved in landscaping again in the next few years. Simply put, you are going to finish all your construction and landscaping at once.
Most people cannot figure out how to get financing for a pool. However, when you plan to get both your house and pool done together, you can source funds through a home equity loan. In other words, you will not be required to go through the hassles involved in taking another loan for building your swimming pool.
You Can Plan Your Dream Pool Design
When you are getting your pool plan integrated into your building plan, you will have more choice when it comes to designing the layout, size and shape of the pool. You will have the flexibility to prioritize the layout, which would otherwise be impossible if you already had a building in place. A pool adds value to your property and is therefore important to get it right. Plan your house and pool together, and get an elegant pool to enjoy for the rest of your life.
You are going to save a lot of your hard-earned money if you get a fiberglass pool installed when constructing your house. This holds true particularly when your site is hard to access. Since the trucks, machinery and professionals will already be present on the construction site, you can hire their services for integrating the pool with your property. You plan it later, and you will be handed separate quotes!
You Can Perfectly Position The Pool
When you start with a clean slate, you can really try different options. You can plan your pool in such a manner as to complement the look of your home. Your pool can also be positioned and built to enhance the overall appeal of your property. Things such as doors, patios, pool-facing windows and more architectural designs can be well-planned to give your house an out of the ordinary look. Furthermore, creating innovative designs around the pool area will allow you to host pool-side parties to your close groups of family and friends.
When you buy materials in bulk, you tend to save a lot of money. Say, for instance, buying tiles, cement and other materials for both pool and house construction can get you discounts, while you can save on transportation too. Most importantly, you can get materials that match or complement, to ultimately bring uniformity in designs. If you, however, delay getting a pool, some designs or materials may be unavailable after a few years since trends keep changing. You may not be able to create the look and feel you wanted if you decide to get your pool later.
Get The Electrical Work Done Perfectly
When your electrician working on your house knows there's going to be pool in your backyard, he can take appropriate measures to install the pool lighting and connect the swimming pool equipment. Why call him again and invite extra costs when you can get him work on both house and pool at once?
Start Enjoying Pool Time As Soon As You Move In
Just imagine how much your family will be excited on moving into a new home with a ready pool! Yes, this is yet another reason to build a pool along with your home. Your new fiberglass pool will be ready to welcome your family when you move in. Start enjoying your evenings and weekends in your new pool, as soon as you move into your new home. Have fun and bond with your dear ones like never before!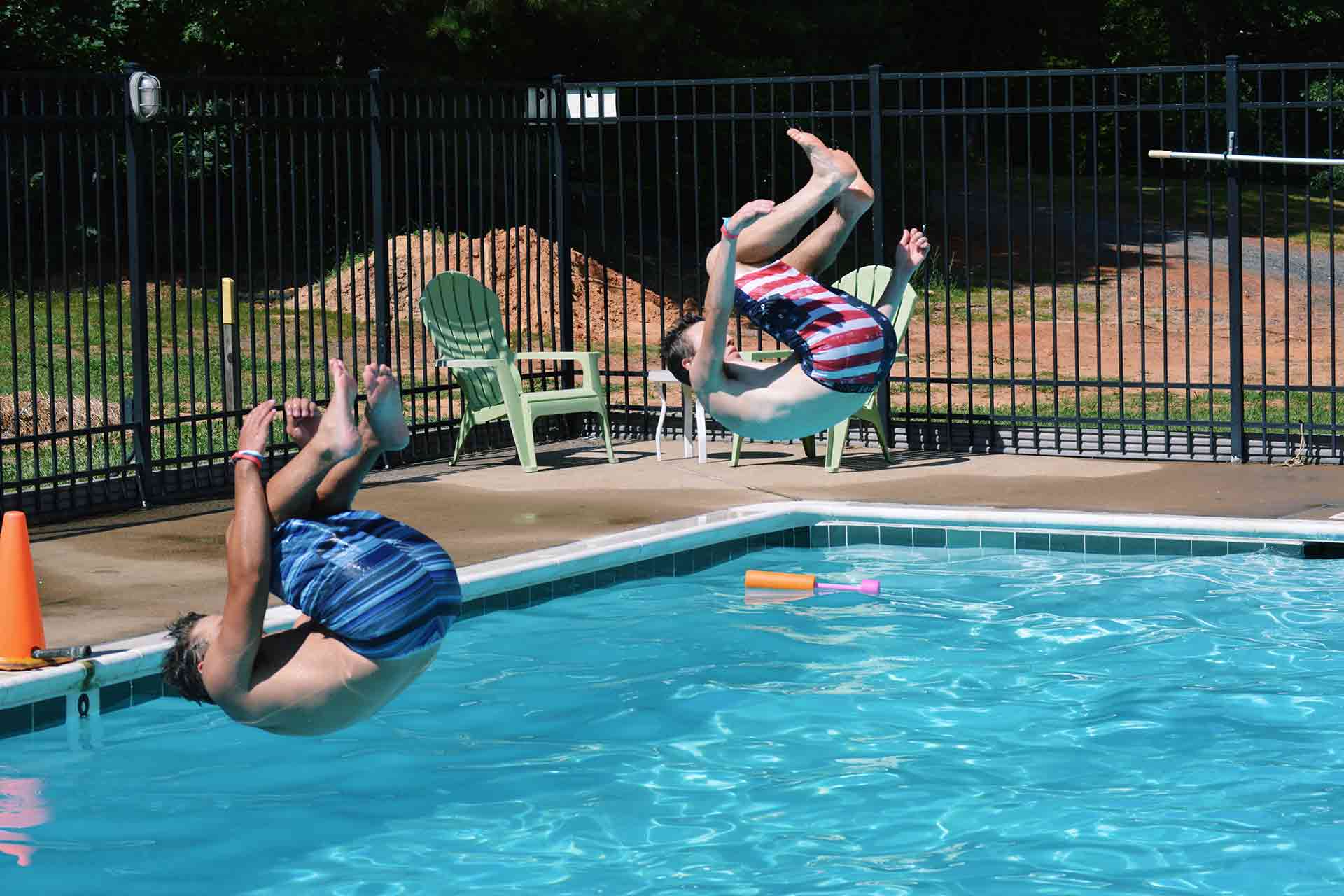 Contact Your Local Pool Builder
You can reach out to your nearest reputed pool builder if you want help in planning your overall property design. Pool builders work with house builders and can best guide you. These professionals also help you save time and money since they plan things simultaneously.
The above reasons are sufficient to have a fiberglass pool on top of your list, when you have new house plans. Get smart and plan things to save great. Reduce noise and mess, and enjoy living in your new home while relaxing in your new pool!