Improve the look of your pool with an effortless clean and unrivalled energy efficiency.
Why install a self-cleaning pool?
Do you want to own a pool that is easy to maintain, keeps itself clean and saves you money? Upgrade your new Barrier Reef pool to a self-cleaning pool with the QuikClean Xtreme in-floor cleaning system and you can have it all.
A Barrier Reef self-cleaning pool allows you to spend more time enjoying life while your pool cleans itself. Your pool will also be more efficient to operate and more enjoyable to swim in because of the increased circulation benefits.
Owning a pool is much, much easier and far more enjoyable if it's a self-cleaning pool!
What is QuikClean Xtreme?
QuikClean Xtreme is the world's most advanced in-floor cleaning system, boasting innovative features that ensure a more complete, efficient and effective clean. Put simply, QuikClean Xtreme transforms your pool into a self-cleaning paradise.
Cleaning is but one advantage of the QuikClean Xtreme system, with the increase in circulation creating a similar effect to a fresh mountain stream. Water quality improves dramatically and the consistent dispersal of chemical treatments and water temperature throughout your pool means you'll reduce treatment and heating costs.

The debris removal drain and cleaning heads are built into your new pool shell at the Barrier Reef factory, ensuring they are watertight and almost invisible as they are colour matched to the pool interior and sit flush with the floor, steps and benches.
Cleaning heads complete a 360° rotation and operate in sequence to shoot jets of clean, filtered water which push debris towards the drain in the deep end of the pool.
Not all self-cleaning pools are the same. A Barrier Reef self-cleaning pool is superior to all other systems and includes the following exclusive advantages:
With a Barrier Reef self-cleaning pool you will benefit from complete cleaning coverage across all steps, benches and the floor area.  This is not a feature of all competitor systems. 
The AVSC drain is the only single-suction drain approved for fibreglass pools.  As a single suction point, the drain is more effective at removing debris and looks better in your pool because you don't require additional suction points. 
The AVSC drain and cleaning heads are colour-matched and sit flush with your pool interior so they're almost invisible and you won't notice them in your pool. 
QuikClean Xtreme is the only cleaning system designed to suit variable speed pumps. The QuikSkim venturi skimmer uses just 30 litres of return water to generate a powerful skimming action equivalent to 200+ litres per minute. No other system generates such extraordinary energy efficiency.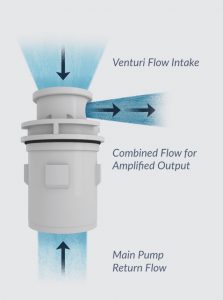 Not only is QuikClean Xtreme the most efficient system to operate, it will save you even more money in the long term with very low maintenance costs which are less than all other systems. 
The long-term value of a QuikClean Xtreme system is incredible.  Your investment is secured with a lifetime warranty provided for the cleaning heads, saving you thousands of dollars throughout the life of your pool. 
Frequently Asked Questions