The Newest And Latest Trends When It Comes To Your Outdoor Pool Area
The pandemic has made our home the safest place. Being at home has assumed importance like never before. In this scenario, our backyard assumes the greatest significance. People are going to great lengths to turn their backyard into their ideal recreational spot. The objective is to combine as many entertainment options as possible into their backyard.
Let's look at the latest trends in the pool area.
A built-in bar will allow you to relax and have a drink at the poolside with your family and friends. This bar can be customized according to your tastes. The bar can have access from your pool or be part of the outdoor space.
2. Saltwater chlorinators
Saltwater chlorinators prevent the use of large amounts of chlorine for disinfecting pool water. Saltwater chlorinators give you fresh, clear water. They are highly compatible with fibreglass pools.
Multi level pools can add more character to your backyard. The pools can be of different depths. You can light them in different colors for added effect. You can add a heating arrangement in part of your pool. Multi-level pools promise many levels of fun.
You can have a wading pool at the first level, which also doubles up as the shallow area for children to play. A large free-form pool can be made on another level. A spillover spa can occupy another level. Water bubblers can add to the attraction of multi-level pools.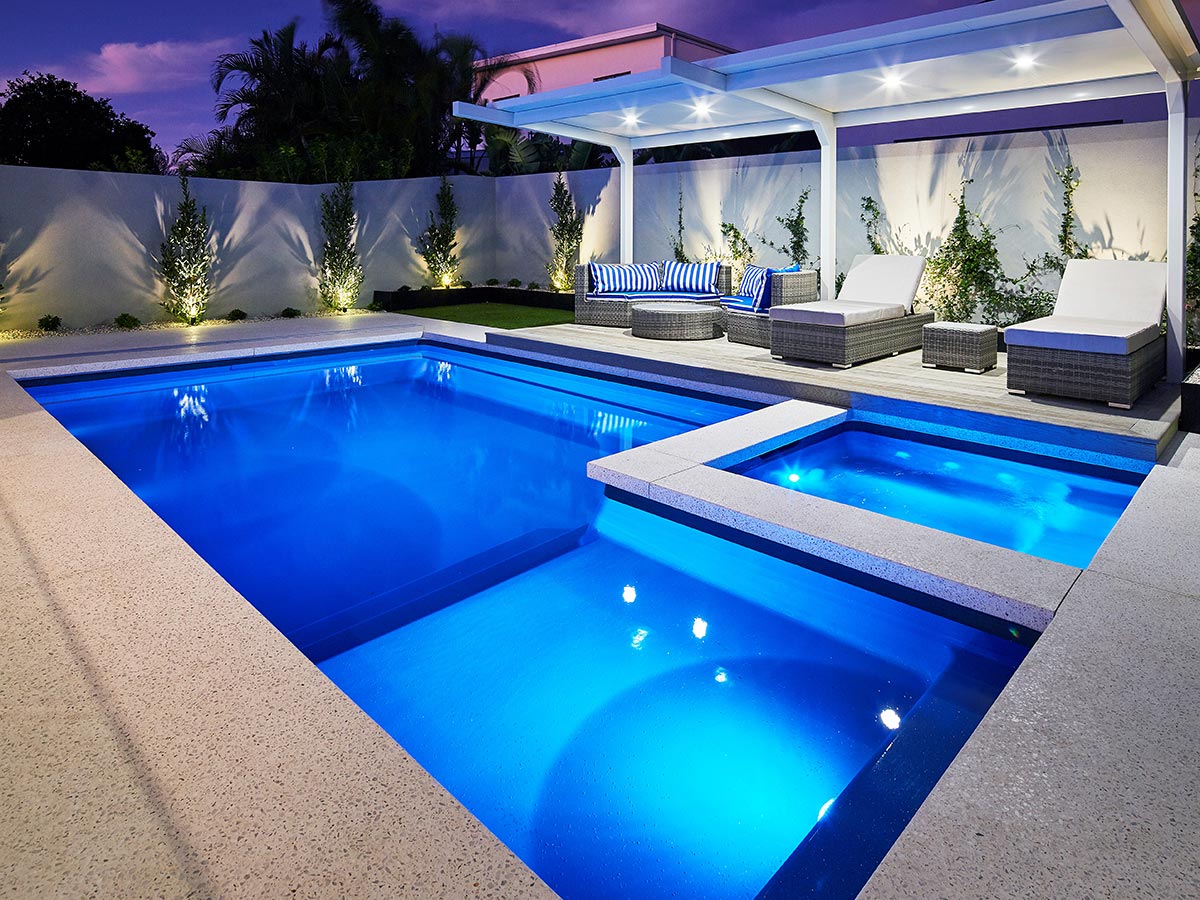 4. Fire and water combination
Building fire pits in your pool area give it warmth. Fire pits can be made in the seating area or the middle of the pool. Portable fire pits can be moved around according to your need.
There are hosts of options available in outdoor lighting. You can fix different colored lights in the steps, water features, perimeter, patios and seating areas. You can also light up the plants in your garden and any statues or decorations. You can use floodlights, spotlights, hardscape lights or path lights. Tiki torches are another popular option to light up your pool area. Wall lights and string lights are other lighting options.
LED lights do not use much energy, and they have a long lifespan. These lights can be programmed and controlled using a smartphone. Fixing different colored lights underwater in the pool can change the color and feel of your pool. Solar-powered lights are also emerging as a popular option. Lighting up your pool can allow you to enjoy your swim even after sunset.
The addition of Jacuzzi tubs or hot tubs can give you numerous health benefits. The Jacuzzi tub eliminates your need to go to a spa. Soaking in a hot tub can relieve tired muscles and reduce joint pains. You can even do various exercises in the hot tub. The jacuzzi can be installed separately or as part of the pool. Installing a jacuzzi as part of the pool will allow you to gain the benefits of a hot tub and cool pool water. Adding a hot tub into the center of your pool will add to the utility of your pool.
7. Plants in the outdoor area
Plants give a resort-like feel to your backyard. Plants like banana trees do not shed leaves and combine well with a tropical theme. There are flowering plants like Hawaiian Hibiscus or ornamental grasses. These grasses provide privacy to your pool area and make your outdoor look good. Select low maintenance plants for placing near the pool area. Rugged stone waterfalls or smooth stone pavers, when used with plants, add a natural look to your backyard.
Place furniture inside the pool. You can also make a seating area near the pool. The area can be covered like a pergola. A fire pit can also be added to the seating area. Adding sun shelves at either end of the pool improves its use for all the members of the family. The sun shelves can be covered with an umbrella for more shade during sunbathing.
Children like to splash around in sun shelves while adults use them for sunbathing. Ledges and sun shelves can be customized according to the size of your pool. Daybeds are great choices for the pool area. You could also go for a pair of easy chairs, a built-in bench with outdoor cushions or a bean bag for your pool area. People usually go for durable and high-quality furniture in the pool area.
9. Water features and feature wall
Water features are high on every pool owner's wishlist. Fountains and waterfalls add to the attraction of the pool. A well-lit water feature can be the center of attraction during parties and get-togethers. Faux grottoes and cascading waterfalls are becoming extremely popular.
Feature walls can be made of stone, timber or they can have plants running upon them. They can also contain a water feature. Feature walls make the pool area interesting. They provide privacy and divide the outdoor space. They also prevent water evaporation from the pool.
10. Complete entertainment zone
The pool is being combined with other outdoor features like an outdoor kitchen, spa, pool house, bar and dining area. The idea is to turn the backyard into a complete entertainment zone where the family can hang out even when they are not using the pool. Placing the outdoor kitchen in the pool area allows one to swim, dine and socialize all at the same time.
People are spending more on using premium materials in the backyard. Whether it is pool finishing, decking, patio, light fixtures or furniture, there is a trend to use high-quality materials.
12. Experimenting with color and design
People are experimenting with dark-toned pools and light-toned decking. They are also using different colored lighting. The pool design is also undergoing changes. Seamless pool edges and amoeba-shaped outlines are also getting popular. Slick, narrow pools are being made to accommodate other outdoor features.