What Colours Can Fibreglass Pools Be?
You've chosen the design, size and layout of your pool, now it's time to pick the colour. Fibreglass pools come in a variety of colours, so you have plenty of options when it comes to selecting the perfect one, the hardest part is deciding which one is going to suit you and your home the best.
The look you want to create
If it's a beach or oasis style that you would like for your place, one of our lighter pools such as our Sandstone Shimmer pools might be a good choice for you. The interior gel coat resembles the colour of sand and produces sparkling clear water once filled. If you want a stylish and sleek pool to compliment your ultra-modern backyard and home, a darker coloured pool can look lustrous and is a great choice for creating a contemporary pool design.
When you think of the overall look you want for your backyard, it's a good idea to select a shade that will complement the existing colours of the exterior of your home and yard to make the overall space look aesthetically appealing. You want your pool to look like it's meant to be there, not look incongruous and out of place.
If the majority of your backyard is a subtle tone, a vibrant coloured pool can create a stunning focal point, likewise a bright coloured pool can be just as well suited to a colourful backyard, picking the right tone can be the difference between a good looking pool and great looking pool. There are some clever ways to use colour to enhance the look of your pool and home, our experienced team can help with this.
Ultimately, it comes down to your personal preference, however, when choosing a colour for your pool, it's a good idea to choose a shade that is going to be timeless for years to come rather than something that is in trend right now, it might look fantastic for the next couple years but quickly look outdated, which will make the overall appearance of your pool less appealing.
Choose a colour that will compliment your home
An impressive looking pool not only ties in cohesively with the home but has also the "wow factor". A way you can produce this look is by choosing a lighter or darker finish for around the pool. For example, if you were to choose a dark toned pool, you could compliment it with lighter coloured timber decking or light pavers. This creates a point of interest and draws your attention to the pool. The same applies for a lighter coloured pool, but instead you would use darker pool surrounds such as granite or dark timber.
When deciding which pool colour to choose, think about how you want your backyard to look and feel when you walk outside. It's a good idea to think of the look you want of your whole backyard not just the pool. Deciding on the design of your pool can help give you ideas on a colour scheme to suit, if you are unsure of colour you want, our highly skilled team can match you with a colour to suit your pool ideas.
Barrier Reef Pools use Advanced Colour Technology that is fade, weather and chemical resistant. All of our range comes with a lifetime internal surface guarantee!
Royal Blue Shimmer
Royal Blue Shimmer provides a deep blue water colour. The surface is a deep royal blue base with light blue, medium blues and blacks speckled throughout.
Ocean Shimmer
Ocean Shimmer is a mix between Royal Blue Shimmer and Pacific Shimmer. It offers a deep, bright blue colour that sparkles in the sunlight. The gel coat surface is a rich navy colour, sprinkled with light blue flecks.
Pacific Shimmer
Pacific Shimmer is extremely popular. It has a stunning vibrant blue colour that glistens in the sunshine. It looks fantastic with sandstone or timber finishes.
Indigo Shimmer
Indigo Shimmer provides a classic bright, light blue pool colour. The gel coat has a light blue base that's speckled with silver and white flecks.
Sandstone Shimmer
Indigo Shimmer provides a classic bright, light blue pool colour. The gel coat has a light blue base that's speckled with silver and white flecks.
Alpine White Shimmer
Alpine White Shimmer produces a light blue water colour. Fantastic for LED lighting. The gel coat is white.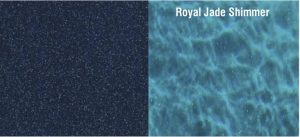 Royal Jade Shimmer
Royal Jade Shimmer offers a deep teal colour. Looks fantastic with dark grey finishes and greenery. Compliments modern pool designs. The surface is a deep teal, speckled with medium blues and greys hues.
Electric Grey Shimmer
Electric Grey Shimmer has a medium grey base with teal undertones. Once water is placed in it, it creates a sparkling rich aqua colour. It sparkles with silver and blue flakes.
Midnight Shimmer
Midnight Shimmer is our darkest blue colour. Perfect for small pools and spas. The base is black with light grey and white speckles. It transforms into a dark navy when water is put into the pool. Barrier Reef Pools have an expansive range of pools in a variety of colours and we are confident we can find the perfect colour combination to accommodate your personal preferences and to suit your home. Our team are highly skilled and can offer helpful advice regarding which pool colour is right for you. If you require further information about our colour range, give us a call, we are more than happy to answer any questions you have.